Ceto Celebrates Sustainable Surf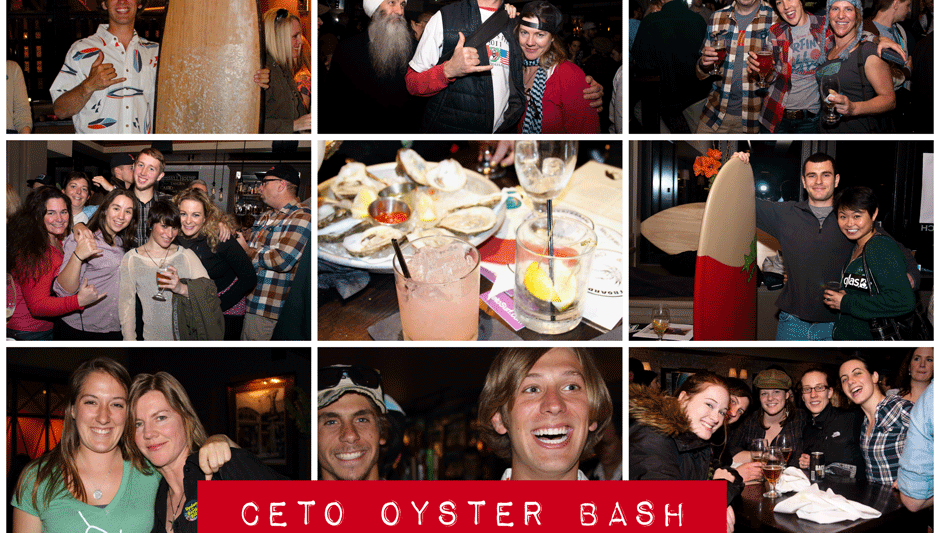 Throughout the year, Ceto Surf hosts $1 oyster parties to celebrate and support New England's burgeoning sustainable surf movement. Special guests and Co-hosts have included Grain Surfboards, Crooked Blanks, Green Lightning Surfboards, Vec Surfboards, and the Mass Chapter of the Surfrider Foundation.
Read on to learn more about these innovative companies:
GRAIN SURFBOARDS, York, Maine
www.grainsurfboards.com
Grain Surfboards was created by a group of friends with a similar vision: to face up to our responsibility for the environmental impacts of surfing but still to surf a great board. What surprised us was that building our own boards heightened our surfing experience in every way – from the satisfaction of building our own boards, to knowing that they have a smaller environmental footprint, to feeling a thing of style and beauty driving down the line. We use a renewable local resource (Maine-grown cedar) and organic zero-VOC epoxy. We also re-use and recycle waste – not just into garden mulch and animal bedding for local farmers – but into solid-wood body boards and hand planes made from the off-cuts of our board building.
We believe that surfers are ready for a better experience than foam and plastic can provide. This experience begins with knowing you're carrying and riding a hand-built wooden surfboard that feels more like a fine instrument than mere recreational equipment.  Our shop hand-builds them one at a time, using traditional methods and proven design and construction techniques.  Because we also offer kits and board-building classes, getting a Grain Surfboard can be a really personal experience that ends with one of the sweetest rides around. Grain Surfboards wants to deliver this experience to a new audience of both seasoned and aspiring surfers.  An audience that's looking for something new, something different, something that lasts, and something they can believe in.
ENDLESS WAVE, INC, Newport, Rhode Island
www.endlesswave.net
Endless Wave was created by a group of surfers with one goal: to design simple, innovative, and environmentally efficient products. Striving to purify the impact surfing has on the ocean, Endless Wave is most notably known for the WAX BUDDY, a three-in-one wax comb with a handle, made from 100% recycled plastic. Simply put, your WAX BUDDY solves a very basic problem: getting old wax off your boards.  After years of experience using everything from credit cards to those kitchen spatulas, we set out to craft the perfect tool for the job. We've incorporated a scraper, a comb, and a cupped rail edge. Its trademark is the handle that provides perfect leverage. The size fits easily into your travel bag, baggies or glove box.  Once you try it, you'll never go back to using old wax combs again.
Every WAX BUDDY is 100% recycled because we love the sea.  We think our boards should reflect that attitude: Endless Wave is all about cleaner boards for cleaner waves.
CAPE ANN SUP, Gloucester, Massachusetts
www.capeannsup.com
Cape Ann SUP is more than just lessons by friendly professionals and tours of scenic Gloucester Harbor and the Essex River. We're in the business of changing lives. We have taken the literal stewardship of Cape Ann's waterways and beaches to heart in building the foundation for our company. In 2011, our volunteers removed almost 8,000 lbs of garbage from the ocean, rivers and beaches of Cape Ann. We also made headlines in 2011. With the help of Natti Surfboards and Shawn Vecchione, we designed the world's first 8'6″ Kids Displacement Racer. In November of 2011, we created the world's first SUP with running lights and rechargeable battery. With a focus on Fun and Fitness, we have been able to innovate and collaborate. We believe in leaving a place better than you found it. And we show honor and respect to the earth, the water and all its inhabitants.
CROOKED BLANKS, Marblehead, Massachusetts
www.crookedblanks.com
Mark Cruickshank  is founder and creator of Crooked Blanks. Mark is an enthusiastic woodworker and surfer who has developed a hollow wooden surfboard blank that can be shaped by a foam surfboard shaper. A Crooked blank is built from sustainable paulownia wood and is shaped in the same manner as a foam blank. The end result is a beautiful wood surfboard shaped from environmentally friendly, light-weight woods.
A Crooked Blanks handplane is made from the off-cuts produced while making a Crooked Blank surfboard blank. The blank is 90% paulownia wood with accents from other sustainable woods such as douglas fir and western red cedar.  The leash plugs are made of bio-plastic, which is 80% cornstarch.
VEC SURFBOARDS, Orleans, Massachusetts
www.vecsurfboards.com
After learning to shape surfboards in the Hawaiian motherland, Cape Cod native Shawn Vecchione brought his world-class skills back home. In the 12 years since Vecchione first learned to shape on the island of Kauai, his custom boards have been surfed by top surfers like the late Andy Irons and his brother Bruce, Makua Rothman, Dustin Barca, Felipe Pomar, and Victor Rosario. His teachers included legendary craftsmen Dick Brewer, Bobby Allen, and Billy Hamilton. Vecchione credits Hamilton, a renowned surfer and the stepfather of big wave rider Laird Hamilton, as his greatest influence. Shawn Vecchione has teamed up with Mark Cruickshank of Crooked Blanks to build beautiful custom shaped boards using paulownia and other sustainable woods.
GREEN LIGHTNING SURFBOARDS, Seabrook, NH
www.greenlightningsurf.com
Green Lightning is an innovative start-up, founded by Michael Emery and Kevin Schoenthaler. Green Lightning provides an eco-friendly wave-riding experience by handcrafting custom surfboards from recycled, organic, and bio-derived materials. We hold environmental consciousness and responsibility at the core of our business strategy and are taking active steps to significantly reduce the environmental impact of a surfboard and the surfing lifestyle. As surfers, we rely on the health and stability of our oceans; it is our duty to preserve and protect what we love. We know that the natural world and the business world are inextricably linked, and we want to strengthen that link by setting an example and inspiring other businesses in the industry to adopt more earth-conscious operations.
CHANGE IS SIMPLE, INC, Beverly, Massachusetts
www.changeissimple.org
Change is Simple, Inc. strives to instill environmental and social responsibility in our communities through sustainability enrichment programs. The Change is Simple, Inc. enrichment programs are administered to schools, businesses, and other organizations in order to spread sustainability awareness and educate others to realize the connection between their actions and their planet. Our age specific lessons teach schools, businesses and communities about the power of simple changes. By educating individuals on the cumulative impacts of their choices, we seek to inspire, empower and motivate others to protect our future. Change is Simple also offers sustainability consulting services. We specialize in designing sustainability strategies, organizing sustainable/ zero waste events, and connecting organizations with key players in their community in order to expand their sustainability understanding and develop their sustainability policies and programs. Our consulting services are available to the entire community.
CINNAMON RAINBOWS SURF COMPANY, Hampton, New Hampshire
www.cinnamonrainbows.com
Cinnamon Rainbows Surf Company is one of the largest surf shops in the Northeast. The shop is owned and operated by local surfers. Owner Dave Cropper grew up surfing in Hampton from the age of 11 and has since traveled the world, surfing in Fiji, Hawaii, Australia, Chile, New Zealand, Central America, the Caribbean and more. Dave continues operating the shop with fellow surfers and world travelers Phil Carey and Heather Day. Through the help and support of a devoted local surfing community, Cinnamon Rainbows Surf Company thrives as a modern surf shop with an old school feeling.
WISDOM PUBLICATIONS, Somerville, MA
www.wisdompubs.org
Saltwater Buddha, A Surfer's Quest to Find Zen on the Sea by Jaimal Yogis
www.wisdompubs.org/SaltwaterBuddha
Fed up with teenage life, Jaimal Yogis ran off to Hawaii with little more than a copy of Hermann Hesse's Siddhartha and enough cash for a surfboard. His journey is a coming-of-age saga that takes him from communes to monasteries, from the warm Pacific to the icy New York shore. Equal parts spiritual memoir and surfer's tale, this is a chronicle of finding meditative focus in the barrel of a wave and eternal truth in the great salty blue.