World Bellyboard Championships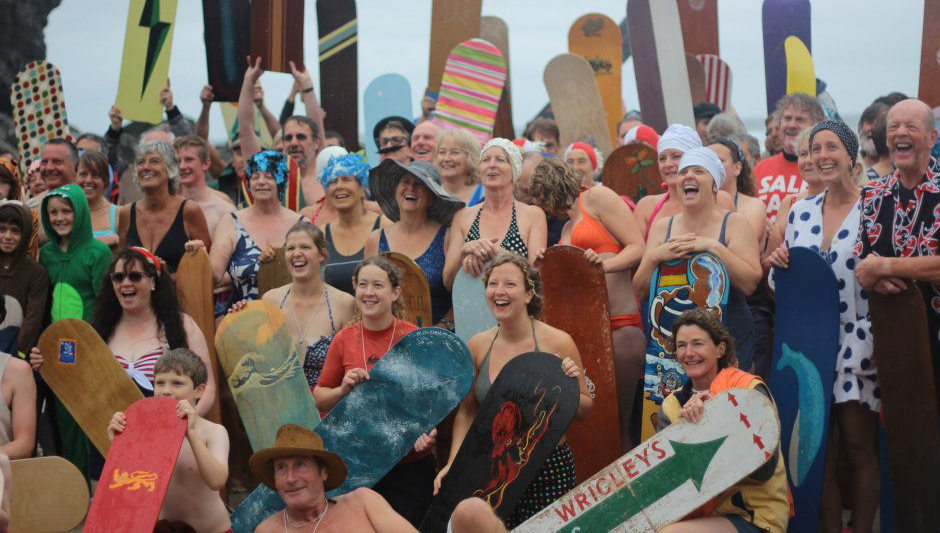 The World Bellyboard Championships began at a little known beach in Chapel Porth, UK. From its humble beginnings in 2002, the competition now attracts over 200 entrants from around the world. Event Director and British surf champion Robyn Davies talks about this quintessentially British event, the history of bellyboarding, her own surfing career and surfer-led coastal conservation efforts in the UK.
Where is Chapel Porth?
It's a tiny little beach on the north coast of Cornwall in the UK (south west corner of England). Lots of surfers over here haven't even heard about it. At low tide you've got probably about five miles of a pretty white sand beach with amazing, amazing banks and an incredible backdrop as well. That's what makes Chapel Porth so special – its backdrop to the surf, which is just this huge, huge high rugged cliff. Cornwall was very, very famous during the industrial revolution time when tin was very popular and that's really a very striking and very unique sight of Cornish surfing. It's a kind of spiritual place really.

What does a tin mine look like? It doesn't sound very beautiful.
It doesn't, does it (laughs)! A tin mine consists of an old stone building … you can't see the mineshaft unless you go into these buildings. They have tall stone stack as well. They're actually very beautiful things. I'm sure when they were working they were pretty noisy, ugly, a lot of pollution. But it's how Cornwall became famous in a way. Cornwall became extremely rich through tin but then the whole economic bottom dropped out of tin and there was no money in it and Cornwall kind of got left behind in the economic world. The shafts go on for tens and tens of miles beneath the ground. It's quite incredible. So that's where Chapel Porth is … it's on the North coast of Cornwall. It's pretty hidden away and a great surf spot … the surfers down there are so proud of coming from Chapel Porth because it is an incredible sight.
What is the ratio of women and men surfing in the area?
I would have to say possibly a third or even more of the surfers in the water are women. Sometimes there's more women than men out there even. Surfing in the UK for women has really taken off, especially in pockets in Chapel Porth. Chapel Porth is one of those pockets where a lot of women do surf, which is quite interesting.
Tell me about the history of bellyboarding in Chapel Porth.
Bellyboarding is how the British first started surfing. They're literally just pieces of plywood that are no taller than five foot in height. They're usually around the four-foot mark and it's got a lip on the nose to hold on to. If there's peeling green waves further in, you can catch those as well, but it's usually a white water sport. Back in the 1940s or very late 30's, it started up around the Brighton region and then it started creeping further and further south. When you see the board you just think, that's not going to catch a wave, it won't even float me. But, in fact, it's exhilarating … it sounds mad to kind of compare the two, but I've been to the North Shore of Hawaii and I've surfed Pipe and I've surfed Waimea and it's that same kind of exhilaration. It's a great sport to get into and it's so accessible. You don't need to know how to duck dive, you don't need to be the strongest swimmer or the strongest surfer, you can literally just grab one and go out into the white water and have the time of your life.

How did the World Bellyboard Championships start?
It started nine years ago in memory of a chap called Arthur Traveller. He lived up country but he always used to come to Chapel Porth for his holidays. And no matter what the weather, no matter what the conditions, he would go in regardless, into the sea and have a bellyboard every day of his holiday. And he was just a real inspiration. Everyone knew him and had great respect for his passion for the ocean. When he passed away, friends of mine started up the world championships and it started off absolutely tiny with 8 or 10 people entering it and then it grew and grew, until three years ago, I took over as contest director. Last year we had 212 people enter. So it's grown in a relatively short time into a huge, huge event that has just captured the imagination of the country. It's quite quirky and quintessentially British. It's an event that's a bit tongue and cheek but you do become a bona fide world champion at the same time. We have people who are aged as young as 6 and our oldest competitor last year was 84, so it's an event for literally everybody.
We've had people from New York come over; we've had people from Australia, from the Caribbean. There was a chap last year from Denmark and a family came over from South Africa. It's truly become the world bellyboard event. We have thirty-four categories like the best swimsuit on the day. Nobodies allowed to wear wetsuits. Everybody's in their swimsuits and it's really encouraged to wear traditional costumes, a kind of 1940s attire. There's prizes for the best costume, there's prizes for the longest ride, there's prizes for the most inventive and radical trick, there's a prize for the best swimming cap because that's also very quintessentially bellyboarding.
It's really all-inclusive … it hasn't become male dominated like the stand up surfing world has become. There's no particular clique attached to it, it's just really friendly. Everyone is out there together, enjoying it, helping each other along.
How did you start surfing? What was it like being a woman in the professional surfing world?
I first took it up when I was thirteen. And it was literally a case of never seeing it before, to seeing it one day and thinking, wow, that looks amazing. I hired a board and I stood up the first time. I thought, I'm a natural; this is my sport and then obviously spent the next year in the white water struggling to get to one knee. But that first wave, I was hooked. My passion started in the blink of an eye, just one stroke into a wave and I've been a surfer ever since. When I was seventeen a friend said to me, hey, you should go in for some of the national competitions, which I did and it just kind of snowballed from there. I feel so blessed that I found something that I love so much which then became my career and then went off onto the world tour and just met very, very like mined people. Personally, I never felt a divide between men and women surfing. The only divide that was there for me was the ratio of men to women in the water. And when it came to career earnings and things with sponsors, I was always treated exactly the same way as my male teammates. I never actually found any sexism in surfing. I just saw myself as a surfer and saw everybody else as a surfer. I think that's how it should be. I have heard stories about girls being told to get out of the water, they shouldn't be out here and stuff but I never came across that.
I was in a car crash and damaged my back and it has never got to that point where I've been able to train as much or surf as much as I really, really wanted to when I was a full time professional. But I'm still in the water all the time, just not up to the level that I used to be. And then it kind of dawned on me that a lot of the places I was surfing belonged to the National Trust. The National Trust is a conservation charity (with 3.6 million members in the UK) that looks after houses and beautiful gardens as well as the countryside and coastline all around the British Isles. And I thought, wow, I've used these beaches all my life and yet I've never felt any connection with this conservation charity who are actually enabling me to get to the beach. They put the paths in and the steps to get down the cliff, and also keep it undeveloped so most of the spots I go and surf it's just me and whoever I go surfing with. So I started volunteering my image as a surfer to the National Trust and said hey listen, there's an opportunity here, because I've surfed your beaches all my life and I had no Idea you were looking after them. I'd like to give something back and I know all the surfers would because surfers care for their environment, they especially care for their playground. And it kind of just snow balled from there. I started then working for the National Trust and working with the surf community to highlight the importance of conservation and the heritage of our coastline and how best to maintain and look after it, which has been a really hugely satisfying job.
The response back from the British surf industry has just been so welcoming. I mean I've had ten of the top British surfers turn around and say, we'd really like to be ambassadors for this cause because like you, we had no idea that this beach was being maintained by a charity. I think you could approach most surfers around the world and say, how important is the environment to you? And whether you're talking about their immediate beach environment or further afield, I think they would all have some degree of knowledge and experience and passion to keep it safe and beautiful. There's been a precedent set by Surfers Against Sewage who are a big campaign group to clean up the seas because sewage in the UK was a big, big problem. Surfers Against Sewage moved mountains to clean up the seas and it really crystallized in surfer's minds that craggy, I'm not just a drop in the ocean, I am part of the ocean. When we all get together, we can actually make things happen, we can conserve stuff, we can change for the better and we can work as one so it's all been really positive. I just find that so encouraging for the future. Yeah, I'm stoked.
What would you say to someone in the US who is thinking about participating in the World Bellyboard Championships?
It's a fantastic event. It's like one big hug from two hundred belly boarders. It's celebrating all that's good about surfing and surfing roots as well, the heritage of surfing. Chapel Porth is one of my favorite places. It's stunning. It's barren in the winter and then in the summer months all the heather blooms into life and there's just so much to see and marvel at down there. I'd say, if you were thinking about a quirky different holiday, definitely come along; we'd be really stoked to see you.

But you don't allow wetsuits?
Yeah, no wetsuits (laughs)! It can be quite cold, especially for the older members of the event, so we do provide hot water bottles and cups of tea afterwards (laughter).
More Info:
• World Bellyboarding Championships: http://www.bellyboarding.co.uk
• Video of event: http://vimeo.com/10688226
• The National Trust: http://www.nationaltrust.org.uk/main/
• Surfers Against Sewage: http://www.sas.org.uk/
• Photo Credit – Matt Cardy/Getty Images Europe: http://www.mattcardyphoto.com